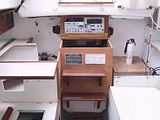 Taken shortly after purchasing the boat.
Taken yesterday after an hour with a cut-off wheel and grinder.
I know the answer is yes, I am making progress, but it certainly doesn't look like it. I'm discovering that the only way to do things right is to start from scratch. The area shown in the bottom picture used to be the original top-loading icebox - removed long ago, apparently - but was, more recently... who knows what?! A convenient shelf for a portable 12-volt cooler? Whatever it was, it will soon be an icebox/nav table with storage bins and a shelf on the outboard edge. The starboard side - similarly torn up right now - will be restored to the original configuration: an Origo alcohol stove and sink set in the countertop, and storage bins and shelves. More to come on that later. I've already prepared a bulkhead to separate the galley from the engine compartment. Some more grinding and measuring, and I'll be ready to tab the bulkheads in place and finish off that area.
Here's to progress.