It's been awhile since I spent time working on the Alberg, and it felt good to finally get back to it today. The exigencies of life have kept me away from the project for far too long.
My goal for the day was to finish all of the grinding so that I can put that mess behind me. During my last effort I managed to remove the remnants of the ice box bulkhead and grind the area smooth. Today I moved on to the settee and port bulkhead that separates the saloon from the head. I feel like I made pretty good progress for about 3 hours worth of work. The biggest challenge was the bulkhead. Unfortunately I couldn't remove it without also removing the cabinet in the head, which, of course, meant removing the shelves and wiring. I still have a bit of grinding left to do. Specifically, I still need to grind out the remnants of the floor the head was mounted to; cut away the tabbing that held the shelves in place; and remove a bit of tabbing that held the shelf above the port settee in place. All in all, not too much. I'll be happy to be done with the dust! I'm absolutely amazed at how much dust the grinding produces; I'm going to be vacuuming it out for months!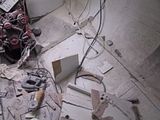 More or less the way things looked when I started.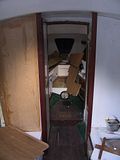 The port bulkhead that separated the main cabin from the head. Notice a previous owner's attempt to "fix" the space that yet another previous owner carved out. Scary.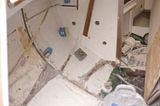 What the space looks like now.
After all the grinding and sanding is finished, the next step will be to clean the area well and fill the gaps between the tabbing remnants with epoxy, fair, and begin installing the bulkheads, settee, shelves, etc. I can't wait until I'm ready for that step. Far more fun than this grinding nonsense. And this time I'm not making any predictions as to when I'll be ready to do that. I'll just say, as soon as I can.