The boat: 1964 Alberg 30,
Tradewinds.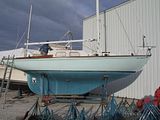 After nearly three years of tinkering with
Ariel
, our Cape Dory 36, installing and modifying various systems, and falling more and more in love with the idea of maintaining and improving a classic yacht, I finally decided that I was ready to take on a project, one that would give me the opportunity to gain some valuable experience while determining whether I could make a go of boat refurbishment.
I didn't exactly set out in search of a boat, however. I had (and still have) plenty to do on Ariel, but I had been toying with the idea of finding another boat at the right price that I could refurbish and sell. It was while I was decommissioning
Ariel
last fall that I came across the ad for
Tradewinds
at a local marina. Her classic Alberg lines immediately caught my attention so I copied down the owner's number, figuring it wouldn't hurt to get a feel for what was out there and the going prices. Even though I was excited about what might come of the call, I promised myself that I would approach the whole thing with my head rather than my sailor's heart. Despite my decidedly stoic attitude, I was excited by what I heard: recent repower with a Westerbeke 2-cylinder diesel, 250 hours; new UK roller furling genoa; newer North Sails main; recent electrical rewire; new holding tank ready to be installed; new water tank ready to be installed; miscellaneous parts: Force 10 propane cabin heater and stove, lifesling, etc; autopilot; depth; knotmeter; gps; freshly covered cushions. It all sounded pretty attractive, so what was the catch? A previous owner had taken it upon himself to "modify" the interior, replacing the port settee with a poorly cobbled together counter/nav station/mess - frankly, anyone who does something like that - to any boat, but especially a classic - is obviously deranged and ought to be admitted. The good news was that the guy had enough sense to hang on to all of the pieces that he removed, which meant that, theoretically, the boat could be made right by simply putting her back together. That's partly true: the original pieces are available to reinstall, but some things must be rebuilt entirely.
Among the things that require a complete rebuild: engine compartment bulkheads, port settee, main bulkhead separating the saloon from the head, the galley, and the electrical panel. All of that might sound a bit intimidating, but I'm anxious to test my skills, and I'm confident that she'll go together nicely.
Following are some pictures of her interior: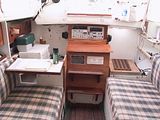 Looking aft at the galley, engine compartment, and original icebox location. The galley was gutted at some point and the original icebox was removed to make space for . . . who knows what. And the "engine compartment" is an utter failure.
This is what the space currently looks like. I have removed much of the offending material in preparation for new bulkheads that will be tabbed to the hull and ultimately form an engine compartment, galley countertop to starboard, and an icebox/nav table to port.